Product Guide
DELOLUX pilot Axi PROFINET
Classification:
Product name:
DELOLUX pilot Axi PROFINET
---
Shortdescription:
The base unit for the high performance UV LED lamps DELOLUX 20 and 202.
---
Product types:
other PROFINET Device
---
Technology & Profiles:
PROFINET
---
Company:

DELO Industrie Klebstoffe
Illustration: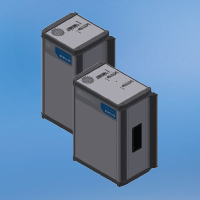 Product description:
DELOLUX pilot Axi PROFINET is the base unit for the powerful LED UV curing lamps DELOLUX 20 and DELOLUX 202. It is specifically designed for easy integration into PLC-controlled processing systems.
DELOLUX pilot Axi PROFINET powers and controls up to two lamp heads. Each of these lamp heads can achieve very high UV intensities, with the base unit being able to set different irradiation parameters for each lamp.
Thanks to automated temperature compensation, the base unit allows for an intensity deviation of only ±2 %. By keeping the lamps' light intensity stable, the system maintains a high level of process quality and ensures smooth production flow.
With its space-saving dimensions, DELOLUX pilot Axi PROFINET – which can send status updates and messages directly to the PLC – offers high flexibility when being integrated into existing systems.