Product Guide
controller-rx
Classification:
Product name:
controller-rx
---
Shortdescription:
Controller RX
---
Product types:
other PROFINET Device
---
Technology & Profiles:
PROFINET
---
Company:

PROMESS Montage- und Prüfsysteme GmbH
Illustration: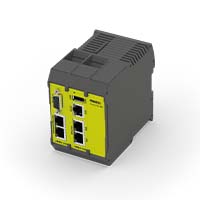 Product description:
The controller RX is the control unit of the Revolution X assembly press. (UFM RX), which allows the operation of simple and complex assembly and joining
processes as well as testing applications. The controller contains press programs that execute and monitor the assembly process based on the set parameters and steps.
The controller RX has the following functions:
- It acquires sensor signals (force, displacement, torque, ...) and controls the connected actuators (presses, torque modules, ...).
- It stores the programs created with the UFM RX software and executes them.
- The operation and parameterization interface is accessed via web browser.
The controller RX has a multiprotocol fieldbus interface and can thus be automated by a higher-level (PROFINET) PLC.