Product Guide
0486 PROFIBUS Concentrator
Classification:
Product name:
0486 PROFIBUS Concentrator
---
Shortdescription:
Multi-channel PROFIBUS DP device for simple sensor and actuator integration to a PROFIBUS DP network
---
Product types:
other Field Device
---
Technology & Profiles:
PROFIBUS
---
Company:

Georg Fischer Piping Systems Ltd.
Illustration: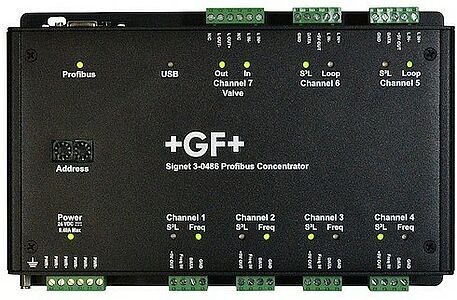 Product description:
Description
The PROFIBUS Concentrator allows the connection of up to 6 inputs via the digital interface of Georg Fischer Piping Systems sensors (S3L), frequency or 4-20mA.
The easy assembly ensures a proper and fast installation with less cabinet space. By PROFIBUS DP-V1 features, the maintenance and troubleshooting processes are significantly improved.
Technical details
Input power: 24VDC

PROFIBUS DP-V0 abd V1 with baud rate 9.6 kbps to 12Mbps

Operating temperature: -10°C to 70°C