PQDXXA-PROFINET-Z10
Classification:
Product name:
PQDXXA-PROFINET-Z10
---
Product types:
PN - Controller
---
Technology & Profiles:
PROFINET
---
Company:
Parker Hannifin Corporation
Illustration: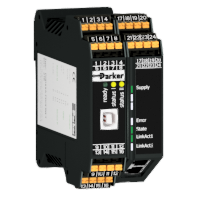 Product description:
Hydraulic pump controller for displacement, pressure and power (/torque) control
of Parker axial piston pump (PVplus).Command values and control signals
as well as parameter settings are transmitted to the
module by field bus. The modules feedback are status signals, actual values as
well as parameter settings. Sensor signals for displacement and pressure are
voltage (0-10V, adjustable) or current (4-20mA, fix). Power amplifiers deliver
current up to 2700mA with PWM up to 2900Hz for the valve coils.
All modules are set with default settings for all PVplus displacements
(16cc-360cc). The parametrization is realised via USB interface in combination
with the software ProPVplus. Alternatively, defined parameters can be tuned via
PROFINET interface.