IO-Link Master 8-PNIO-L
Classification:
Product name:
IO-Link Master 8-PNIO-L
---
Product types:
Link/Coupler/Gateway/Proxy
---
Technology & Profiles:
PROFINET
---
Company:
Pepperl+Fuchs Comtrol, Inc.
Illustration: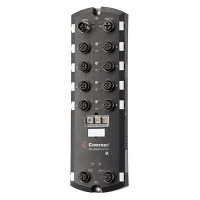 Product description:
The Pepperl+Fuchs Comtrol IO-Link Master PROFINET (PNIO) series combines the benefits of the IO-Link standard with the PROFINET protocol. You can easily integrate the IO-Link Master into an industrial network with existing and new PROFINET IO installations using our powerful web interface and Step 7.
The IOLM 8-PNIO-L has 8 ports and features a rugged IP67 housing with M12 connectors for harsh environments and a wide operating temperature from -25° to 60°C.
The IOLM 8-PNIO-L has a powerful web GUI for configuration and diagnostics, including: IO-Link device management using the IO-Link device manufacturers IODD file for easy device configuration, automatic data storage (upload and download), Manual data storage (upload and download), device validation, and data validation.
In addition, it features multi-side LED visibility for device, network and port status, additional digital input on every port, and IO-Link V1.0 and V1.1 compatibility.